Ridgeback´s Hiari A´Shanti

CHOVNÁ SUKA/Zuchthündinn

Date of birth: 26.12.2006
Tatoo No.: SPKP 1134
Výška/Váha: 63 cm
plnochrupá/fulldentition
Colour: červená pšeničná, bez masky,
biely fľak na hrudi

HD: HD A/A = frei (0/0)

ED: ED 0/0

Zuchtzulassung des SKCHR (FCI) am 08. Mai 2009 ohne Einschränkung bestanden!
Exteriér: červeno pšeničná suka, malý znak na hrudi, bez masky, pekná hlava, dobre nesené ucho, tmavé oko, ridge štandardný, bez posunu... rotweizen, Marke an der Brust, keine Maske, schöner Kopf, gut angesetztes Ohr, dunkle Augen, Ridge-standard
Charakter: milá, neagresívna, rozumná, spoločenská... lieb, nicht agressiv, klug, gessellschaftlich
Chovateľ/Breeder: Ridgeback´s Hiari Kennel/Jozef Macho
Majiteľ/Owner: Jozef Macho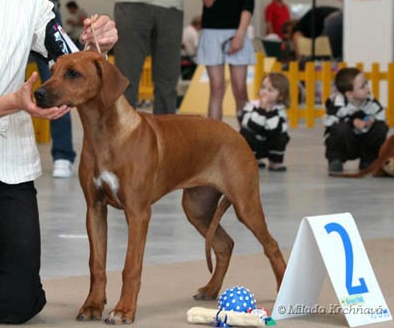 In A´Shanti´s pedigree are African (Zimbabwe, South Africa), American, European and also Dutch bloodlines
These bloodlines are proven in RR breed, in terms of the exterior, type, character and health.
In his pedigree you can find many WORLD WINNERS:
JOCKULAR JAMAL AQUAMARINE /2002/
Rydgeway African Hunter /1996/
MAKARANGA Famous Chaka /1991/
JOCKULAR JUBA /1990/
JOCK /1989/
RYDGEWAY African Dawn /1988/
ELTERN

GROSSELTERN
URGROSSELTERN
UR-URGROSSELTERN
UR-UR-URGROSSELTERN

SORBONNE


ICH. JOCKULAR JAMAL AQUAMARIN


KHWEZI ACHERNAR

GLOBE´S ROVING RED REGENT

Ch Royalton's Blue Max

Ch Globe's Calia Toi Soldier

ANDRA OF KHWEZI


Ch Pleasantview Seswai Of Jana

Ch Hommellust Letsatsi Of Jana

CH. JOCKULAR KUNDALINA


MUSHANA GOMANA

Ch Mukani Of Mushana

Ch Chiremba Nembo Of Mushan


ICH. RYDGEWAY AFRICAN DAWN

Ch Jock
W.'86-'87-'88-'89, Worldwinner'89, BDSSG.'86, Belg.Ch

Ch Glenaholm Galore Of Rydgeway


TESSEL

ICH MWSATI´S MWANAMOETAPA

BESAL GOLDEN RULE


GLOBE'S Roving Red Regent




ISIMANGAMANGA Zwena of Besal




CH. JOCKULAR JINJA

JOCKULAR Juba




MAKARANGA Famous Chaka

XENA

ICH. MAXIM DAGMAR

Simba VAN MASJONALAND

JOCKULAR Autumn

LEEKA v.TJOLOTJO

JOCKULAR Nkosi-Yama-Kosi

Tessa VAN TJOLOTJO

BELISEE
VEGA SOLIPSE


Babakabo Simanga

Besal Fatoka

Pronkberg Swazva of Besal

PRONKBERG Sango



Ingwe of Pronkberg

Is

imangamanga Zwena of Besal

KUSHANI Aeneas

ISIMANGA Ukusa

Auriga Rhodana

Mennystones Shingi

MUSHANA Chenga

MENNYSTONES Huchi

Bornea Ropotamo

Castor VOM WAGNERHOF

MERIGAL'S Elanda

Bajka Agátový kvet


Couly ze Sulické tvrze

Rydgeway African Hunter


Besal Fatoka

RYDGEWAY Copper Coin

Calma z Africké savany

MENNYSTONES Shingi

Wayside Red Amy


Bonnie Malženická rovina

Dorian Ropotamo

RIVENDELL'S Reinhold the Red

MERIGAL'S Elanda


Azambia Pacifik

Affirmed ROPOTAMO


Afra Z AFRICKÉ SAVANY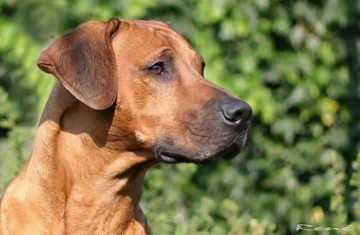 JOCKULAR JAMAL AQUAMARINE
NHSB 2296274
Date of birth: 27-04-2000
*** Crufts Winner 2003***
*** World Champion 2003***
-WW Dortmund 2003 BOB/third place in the group,
Eindhoven 2002 BOB / Groupwinner, sixth best in show
- Luxemburg 2002 BOB / second place in the group
- Zagreb 2002 BOB / Groupwinner, fourth best in show
- Genk 2003 BOB / fourth place in the group
- Crufts 2003 BOB /fourth place in the group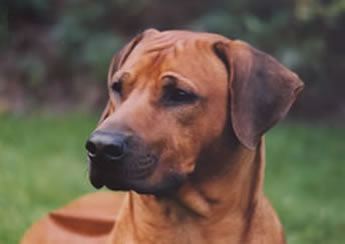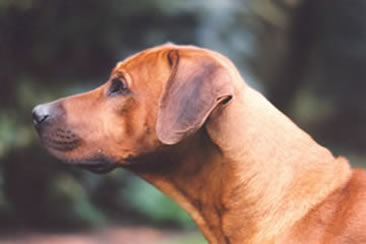 ---
Rydgeway African Hunter
HD/OCD: HD A (frei) und OCD-frei
European Winner+BOB 1999 (FCI),
Niederländischer Champion
Deutscher Champion (Club)
Österreichischer Champion
European Winner+BOB 1997(VDH),
Vice-European Winner '95, '96 (VDH)
15 National Championchips in 14 countries. 8 National Winner in 7 countries.
11 Club-& Spec.Show-Winner in 6 countries. 16 group victories in 8 countries.
2 Best in Show and 2 Best of the Day in International All Bread Show
---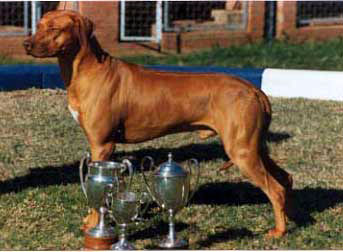 Ch. Globe's Roving Red Regent
Clay was the first American-bred Ridgeback to earn a South African Championshipas well as the first to obtain his Zimbabwe championship.
He finished within a month after turning 18 months old, the minimum age to finish in South Africa.
Clay was a MULTI-BEST IN SHOW WINNER and the # ONE RIDGEBACK IN SOUTH AFRICA IN 1992, #4 all-breed.
He also won a BEST IN SHOW IN ZIMBABWE enroute to his Zimbabwe championship.
Clay is one of the top-winning brown nose Ridgebacks in the history of the breed.
He sired many outstanding get including a son in Germany that won Best of Breed at the "World Championship Show" in Switzerland.
He also sired BIS S.Af Ch. Calibre Winds of Change of Nomvuyo (right) - multi-BIS winner and #1 show dog All Breeds in South Africa in 1998.
Clay is one of the ALL-TIME TOP PRODUCING RRs IN SOUTH AFRICA.
Clay was a handsome brown nose dog, standing 27" and around 93 lb. He had a super temperament and was a very sound dog,
certified free of hip dysplasia. He was co-owned by Derek Martin (Tatsfield) and breeder/judge Janet Wang (Nomvuyo) in South Africa.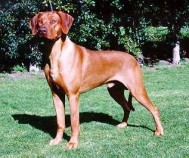 * * * * * *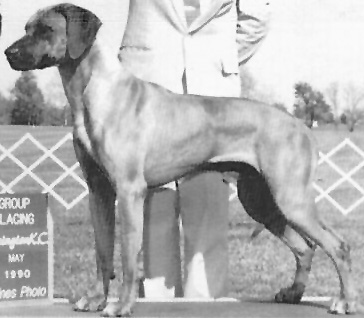 Am/Can Ch. Royalton's Blue Max
Max was Reserve Winners Dog at the 1989 National Specialty in California and a Group Placer.
His pedigree also contains some of the country's best-known Ridgebacks and bloodlines.
This breeding produced a renowned litter of nine with no ridgeless and no dermoid sinus.
Six from this litter finished their championship (4 in the US, one in South Africa, and one in Finland) and one CDX dog.
Toi was #1 Brood Bitch (tied) for 1992. The champions from this litter are particularly noteworthy.
* * * * *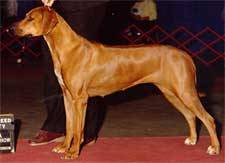 Ch. Globe's CaLia Toi Soldier (Toi)
Toi was an excellent Ridgeback. Not only did she win the breed each time, she also won the Hound Group in all six matches
and was twice Best in Match. Always owner-handled, she finished her championship at only 11 months old from the Bred-by-Exhibitor class.
Toi was a group placer and multi-Best of Breed winner over top competition.
Toi had a superb temperament like both her sire and dam - easy going and laid back attitude, yet she was outgoing and friendly
- a happy-go-lucky girl. She showed with energy and enthusiasm.
Red wheaten colour with white on chest, neck and tips of toes. Toi excelled in movement and it was not unusual to
receive favorable comments from spectators as well as judges.
* * * * * * *
Zim Ch
CHIREMBA NEMBO OF MUSHANA
REG: ZKC 0404
BORN: 05.04.1986
GENDER: Bitch
SIRE: Zim Ch Mutongi
DAM: Chihuta »
BREEDER: Dr F E McQuire, Zimbabwe
OWNER: Sam Wallace, Mushana kennels, Zimbabwe
* * * * * *
Zim Ch
MUKANI OF MUSHANA
REG: ZKC 0424
BORN: 23.02.1983 South Africa > Zimbabwe
GENDER: Dog
SIRE: Mushana Daktari
DAM: Abelenburg Beeatrix Australia > South Africa
BREEDER: J Betteney, South Africa
OWNER: Sam Wallace, Mushana kennels, Zimbabwe
* * * * * *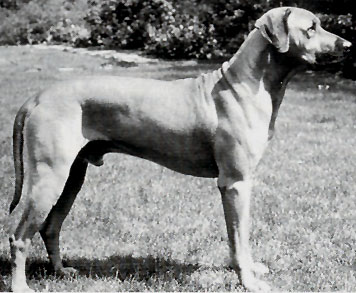 Jock
Worldwinner'89
Nat.-, Int.-, Belgian-VDH- & European Ch.-'87,
VDH Bundessieger-'86,
vice World Ch-'86 Austria, World Ch.-'89 Denmark,
R.R.C.N. Clubmatch Winner/ BOB-'87 the Netherlands,
Winner Amsterdam/ BOB-'86,-87,-'88,-'89.
16.04.84 - Glenaholm Gawula (imp. SA) x Anouk
Owner: Carla Coppens- Janssens, Breeder: Cees van Gruting
* * * * *
JOCKULAR JUBA
Nat.- & Belg.- Champion,
Winster Amsterdam/ BOB-'90, L.D.R.R. Clubmatch Winster-'91 Germany.
06.02.89 - Ch. Jock x Ch. Rydgeway African Dawn
World Winner 90
* * * * * *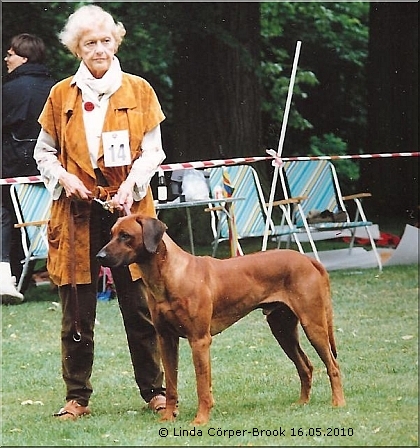 MAKARANGA Famous Chaka
23.06.1987
International Ch., Germany Ch. (VDH), Netherlands Ch. Germany.Ch.(Club),
World Winner 91
* * * * * * * *
RYDGEWAY African Dawn
24.06.1987
National, International, Ch.Belgian Ch.
R.R.C.N. Clubmatch Winster/ BOB -'88,-'89 the Netherlands
World Winner/ BOB-'88 Denmark,
Vice World Winster-'91 Germany
| DATE | SHOW | CLASS | RESULT | JUDGE |
| --- | --- | --- | --- | --- |
| 8.5.2009 | Specialna klubova vystava SKCHR Lomnista | tr.otvorená | V | Martina Viktorínová |
| 28.3.2009 | CAC Nitracanis | tr.otvorená | VD | Ľudmila Fintorová |
| 24.1.2009 | CACIB Trenčín | tr. otvorená | VD | Tibor Havelka |
| 16.8.2008 | CACIB Bratislava | tr.stredná | VD | Magdalena Musial |
| 7.6.2008 | CACIB Grand Prix Slovakaia Nitra | tr.stredná | V2,r.CAC | Atila Szegledi |
| 6.6.2008 | CAC Senec | tr.strdná | V3 | Štefan Šinko |
| 29.3.2008 | CAC Nitra | tr.stredná | VD | Viera Staviarska |
| 19.8.2007 | CACIB Bratislava | tr.dorastu | VN2 | Viera Staviarska |
| 5.8.2007 | ŠV SKCHR Piatrová | tr.dorast | VN2 | Bedrich Meszaros |
| 3.6.2007 | CACIB Nitra | tr.baby | VN1 | Štefan Štefík |
| 13.5.2007 | Klubova vystava SKCHR Bratislava | tr.baby | VN2 | Elisabeth Hammerschmid |
| 12.5.2007 | CACIB Bratislava | tr.baby | VN1 | Erdos Laszlo |
| 5.5.2007 | Klubová výstava ČKRR | tr.šteniat | N1 | Borsfai Csaba |