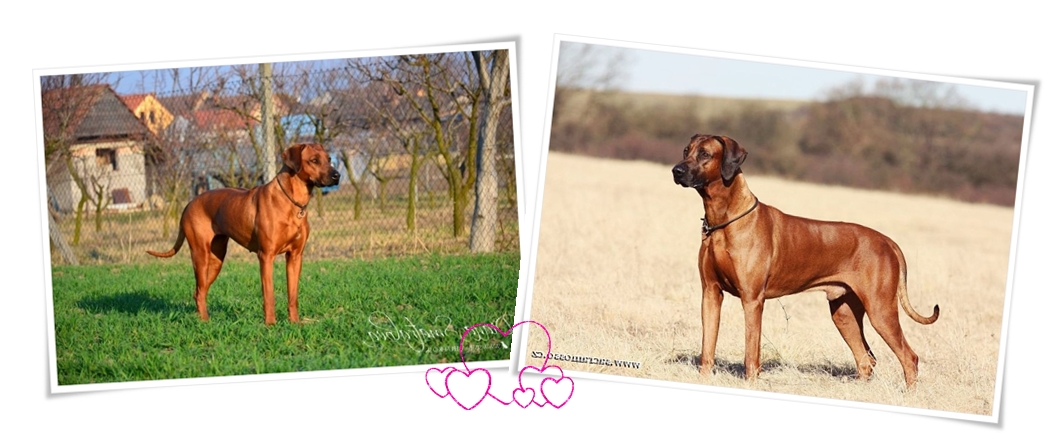 CHANYA

Ridgeback´s Hiari

REBEL

Shelridge Aussie

Date of birth: 08.06.2009

Výška: 61 cm
plnochrupá/fulldentition
Colour: červená pšeničná, so slabou maskou,
malinký biely fľak na hrudi

HD A/A, ED 0/0

"Vice suka roka 2011 SKCHR"

SLOVAK CHAMPION

INTERCHAMPION candidate

HUNGARY CHAMPION


JUNIOR CENTRAL EAST EUROPEAN WINNER


XX. Jubilee Specialty Club Show 2014 (SK)
V1, CAC, Klub.CAC,
CLUB WINNER 2014, BOB

- imported from Australia -

Date of birth: 2.12.2007, Australia
Výška: 69 cm
plnochrupý/fulldentition
Colour: red wheaten, dark mask, no white marks
HD A/A, ED 0/0 OCD neg/neg, LTV negativ

Thyroid: clear (TSH, T3, T4)
Heart+EKG: strong and clear, without pathological findings
Degenerative myelopathy: N/N – negative
DNA profiled: yes

INTERCHAMPION
CHAMPION OF CZECH REPUBLIC
GRANDCHAMPION OF CZECH REPUBLIC
CHAMPION OF SLOVAKIA
CHAMPION OF HUNGARY
CHAMPION OF POLAND
CLUB CHAMPION OF KCHRR

Working exams:
ZOP (basic obedience exam + behaviour/metal test)
ZZO (obedience+behaviour/mental test)
ZPU-1 (higher obedience+hurdles+tracking)
FPr1 (special tracking exam – I. level)
FPr2 (special tracking exam – II. level)
FPr3 (special tracking exam – III. level)
ZPS1 (higher obedience+special tracking ex.)
BH (international obedience test)
FH1 (international supreme special tracking exam)
FH2 (international supreme special tracking exam-2. level) (passed 3x – in year 2011 and 2x in 2013 again)
IPO-FH (the highest international supreme special tracking exam – double-day exam)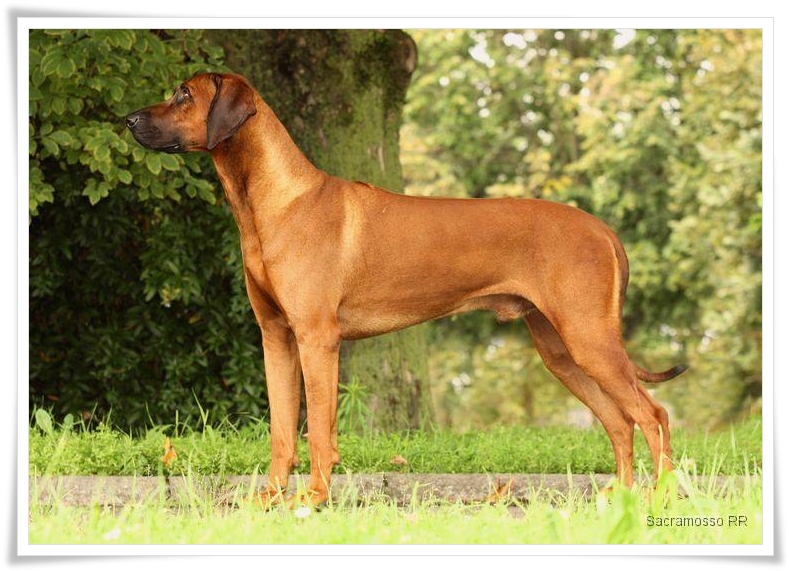 Character
Rebel has absolutely outstanding character. He is a dog what you come to love immediately.
But Rebel is not only wonderful family pet, but he is also a great working dog. He is capable and willing to work and be concentrated even also "under pressure" and at unfavourable situations, what proves his psychic equanimity and high working usability.
In activities requiring his own enterprise and independency (like tracking) he has no problem to work independently from a leader.
Up to now Rebel handily passed 12 examinations. His first exams – namely ZOP (basic obedience exam + behaviour/mental test), ZZO (obedience + behaviour/mental test), ZPU 1 (higher obedience + hurdles + tracking exam) and FPr 1 (special tracking exam).
It is noteworthy that all these mentioned exams he has passsed before his 2. birthday, and mainly the uneasy tracking exam FPr 1 is a great achievement for this age.
In Spring 2010 he passed one another hard special tracking exam level II – FPr 2! It is important to underline, that to this day only 2 another ridgebacks passed this difficult exam in all history of Czech RR breeding and even Rebel is the most youngest from them! He managed to pass it in his only 29 months and just after only 8 months of tracking training!
In October 2010 he managed to pass the last and hardest from serie of tracking exams FPr – it means FPr 3. He is the first and only ridgeback in whole czech ridgeback´s breed history who passed it.
In addition Rebel as the first and only ridgeback again in CZ history passed such difficult obedience and tracking exam as exam named ZPS 1 is!! It is a huge success on a working field.
And on the top of all, Rebel passed the most existing difficult tracking examinations like FH1 and FH2! Those are such a difficult exams that only about 20 dogs pass it in Czech Republic every year. Both are extremely hard and prove a dog´s tracking ability and Rebel is the only ridgeback who was able to pass those examinations. And moreover – Rebel passed the exam FH2 for three times !
The absolute top of his tracking skills is a passing of the highest supreme tracking exam – rightly feareddouble day exam IPO-FH!
I am very proud of Rebel! This exam is the absolute top test for sporting trackers and really it´s not easy to pass it.
It is doubleday exam, when the dog has to work out each day minimally 3 hours old track of stranger, with crossing of the track by another stranger, the track is 1800 m long, with 8 legs, 7 corners (two of them must be sharp corners), with arch and with 7 articles.
Rebel passed this exam in unfamiliar organisation, on the tracks of two absolute unfamiliar strangers and on unfamiliar terrains and he got very nice points scores both days what even I did not hoped before ..
According the statistics of our Czech cynology organisation only few dogs from whole Czech Republic are successful each year on this test. Only few dogs are yearly prepared for this exam and only the best are able to pass it..
For example in year 2012 from 9 entered dogs only 2 passed it, in year 2011 from 7 dogs only 4 did it, in year 2010 again only 4 dogs from 10 passed it ..
So I could say it is not only the great success of our Rebel but this is the great success for the all rhodesian ridgeback breed !
But most of all – Rebel presents his working skills on many official obedience and tracking trials where we are participating several times a year. He is only ridgeback in usually strong competitions including dogs from several working breeds like german shepherd, malinois, etc.. and he usually stands on the winning places! Even he was able to win in official tracking trials over experienced competitors ! I am very proud of him that he is able to cope with such a strong competitors.. And additional he was presenting himself and rhodesian ridgeback breed for the first time in a history on a republic level, when he was qualificated in year 2013 for Czech championship tracking qualification and he did an amazing work there !
His trials results you could see in menu under "examinations" ..